VT1 Lighting Tower
Call us now 020 3900 0716

The VT1 Lighting Tower is an extremely efficient Mobile lighting System.
VT1 Lighting Towers can be deployed quickly, easily and maintained by qualified Forward Sector staff.
VT1 Lighting Tower Features
The VT1 Lighting Tower system is a rapid deployment, mobile lighting system, which is self-powered and extremely efficient. The advanced technology allow for quick and easy deployment of a set and forget system.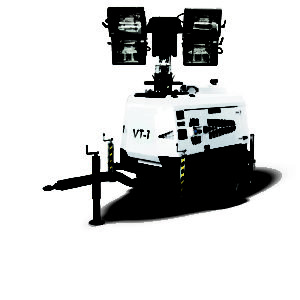 Equipped with hydraulic lifting system and a maximum height of 8.5 meters

4x1000W powerful metal halide floodlights

A digital controller specifically studied to manage every function of the light tower for the best ease of use

Can illuminate large working areas

The VT1 Lighting Tower is equipped with a versatile trailer for building sites or road use with lights, brakes and documents for EU contracts
What is VT1 Lighting Tower's power source?
The main power source is a bank of high AMP gel batteries,  backed up with an inbuilt generator. The lighting tower can be also powered by 110 Volts or 240 Volts external power supplies.
What is the mast extend height from ground level?
The mast can extend vertically to a maximum height of 5 meters above ground level.
What is the total number of lights on Lighting Tower?
What is the failover power sequence source if not connected to mains ?
The main power source is a bank of batteries, with a backed up power supply of an inbuilt generator. There is a battery voltage sensor which triggers the generator in the event of low battery power.