Forward Sector Smart CCTV Tower
Call us now 020 3900 0716
The Forward Sector Smart CCTV Towers is an extremely efficient Mobile Surveillance Security System.
Forward Sector Smart CCTV Towers can be deployed quickly, easily and maintained by qualified Forward Sector staff.
Forward Sector Smart CCTV Tower Features
The Forward Sector Smart CCTV Tower system is a rapid deployment, mobile monitoring system which is self-powered and extremely efficient. The onboard internet NEXT-G communication software and advanced technology allow for quick and easy deployment of a set and forget system with secure remote login and remote camera capabilities. Save time and labour costs with a complete record of incidents and real-time alerts.
Powerful pan, tilt, zoom (PTZ) camera's, fast dome 360° camera, Motion Sensor Alarm, Auto Tracking (Human Detection)

Up to 4 additional CCTV cameras.

Capabilities include Infra-Red, Laser and Thermal cameras with varying zoom functionalities

High-resolution LIVE video viewing for users via Wi-Fi and 3G/4G network

Secure Login, password protection

Zero lux long distance Night Camera's

Custom configuration capability according to you needs

HD Live streaming

CCTV Motion Detection

Dual Networking video recording

PA alert System

LED Floodlights (Optional)

Multi-User login
Applications of Argente Smart CCTV Tower
Incident Management

Disaster Recovery Monitoring

Business Continuity Management

Monitoring of Regulatory Enforcement

Supplementing static guards and patrols.

Cost effective alternative when compared to the price of guarding.

Traffic Monitoring (Traffic flow, Speed Management and Number Plate recognition)

Event Security and Crowd Monitoring

Building Sites (Protection of Assets and Site Management)

Surveillance

Event monitoring

Illegal dumping Monitoring

Graffiti Monitoring

Occupational Health and Safety Compliance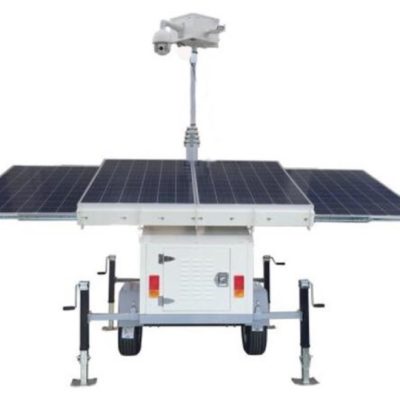 What is Forward Sector Smart CCTV Tower's power source?
The main power source is a bank of high AMP gel batteries, with 4x 300W Monocrystal Solar Panels. The smart tower can be also powered by 110 Volts or 240 Volts external power supplies.
Does the system have an alert communication ?
 Yes, Communications from Forward Sector Smart Tower are administered wirelessly  to our control room.
How is the alert response handled?
Authorized security personnel are notified to attend the site immediately, secondly if the situation escalates the emergency services are notified and finally the client is notified
What are the camera frame rates?
Generally, the frame rates are set at 25 frames per second on the smart tower.
Does the camera have the ability to be adjusted remotely (PTZ)?
Yes, all cameras are used and adjusted remotely via password protected log-in. Cameras can also be set to perform Pre-set patrols.
Are cameras Night Vision cameras?
All Forward Sector Smart Towers are equipped with a range of camera nest options which include, thermal, laser and Infra-Red for night vision.
What are the camera IP ratings?
Camera dependent but generally IP65 or greater.
What is the camera overseeing height from ground level?
The mast can extend vertically to a maximum height of 5 meters above ground level.
What is the total number of cameras on Smart CCTV Tower?
Two as a rule, however up to four cameras can be included if required.
Are camera's 360 degree viewer recordable?
How long do Forward Sector retain the recording data?
This can vary from client to client, although normally data is kept from a minimum of between 90 days and upto a maximum of 18 months
What is the failover power sequence source if not connected to mains ?
The main power source is a bank of batteries, powered by 4x 300W Monocrystal Solar Panels, Therefore the batteries should never fully be discharged.
What is Forward Sector Smart CCTV Tower's reporting functionality?
A full system log audit report showing users, devices, system status and alerts are passed onto the client and emergency services when required.
Does Forward Sector Smart CCTV Tower provide any audio alerts on site?
The smart tower can perform both audible and verbal alerts via the control room.
Can the client access real time video viewing?
Yes, real time and recorded viewing is available for the clients either by smart phone or computer.
How secure is the recorded data?
All recorded data is encrypted making it impossible to access without authorization.